Situated in the Northeast of India, Assam is a beautiful state, and even the ancient Indian texts mention its beauty. One of the most peculiar things about the state is its treasure trove and Ahom era's authentic chronicles.
The rest of India is yet to discover more about this gateway of Northeast India. Here are four of the most unusual places in Assam:
1. Mayong – Black Magic Capital of India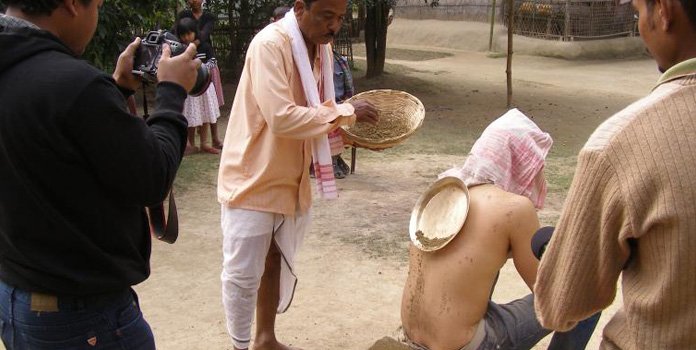 Mayong, also known as the "Land of Black Magic," has been famous for Black Magic. Black Magic is a type of tantric ritual that has always been a part of ancient Indian art.
Even though we may think that such beliefs have no place in modern society, it is still being practiced in Mayong. A lot of people consider this place as cursed while adventure seekers come in droves to see the signs of ancient magic. The magic that is infamous for the ability to do bad things is the main attraction of this place. 
2. Jatinga: Valley of Death for Birds
A lot of birds come in this place from many other parts of the world. Why do the birds come here? May to spend their time during winter or find good food? No. The birds come here to commit suicide.
Yes, the place has been famous as the suicide land of birds. There have been researches about this place, but it is still unclear why birds come here for committing "mass suicide." Besides local people, some international organizations visit here to witness the peculiar occurrence.
3. Bogijuli Camp – Nameri Forest Reserve
There have been reports of unnatural activities in this place that is situated in the Nameri forest reserve of Assam's Sonitpur district. The stories of the abnormal events state that people visiting the site during the dusk often hear a lady laughing, which is kind of spooky.
Some have even seen the bamboo groves falling and then getting back to its previous state. It is not a place for spending a pleasant Sunday evening, so do not go there unless you want to hear the laughing of "ghosts."
4. Hahim Picnic Spot
Situated near Guwahati, the Hahim picnic spot is a natural and quiet place for people to go with friends and families and enjoy the beautiful silent stream. So what can be so weird about this beautiful and scenic place with stony ebbs? During early in the morning, a lot of people reported that they hear funny noises, and some of them are very scary for them to endure. As a result, even though it exceptional when it comes to beauty, the number of visitors has significantly reduced over the years.
5. Banyan Tree in Puranigudam
There is an old banyan tree in Kaxorigaon area in Puranigudam. People says that during the Assamese-Burmese wars of the 1820s, the Burmese committed countless atrocities on the poor Assamese villagers, including building bamboo sheds atop tree, more like modern treehouses, they then tied up the locals and put them atop the tree and put fire at the base. One can only imagine the suffering of those people.
According to the locals, this place today is somehow haunted by those souls and the site has seen numerous fatal accidents over the years. No matter what the local authorities do to sort out this stretch of the NH-37, the accidents just keep on happening.
6. Haunted House in Nagaon
There is a haunted house adjoining Tarun Phukan Road. According to the locals, a girl was raped and murdered in this house and since then the spirit of this girl has been trying to get even with the culprits.
Assam, with its beautiful features, also has some heart-shivering places that people tend to stay away. From the magical land of Mayong to the mysterious nature of Hahim, there are many weird places in Assam that people are still not familiar with.
Watch Next
Mayong: Myth/Reality: A documentary film on Mayong, a small cluster of villages in Assam known for its Tantrik practices and legends associated with black magic.