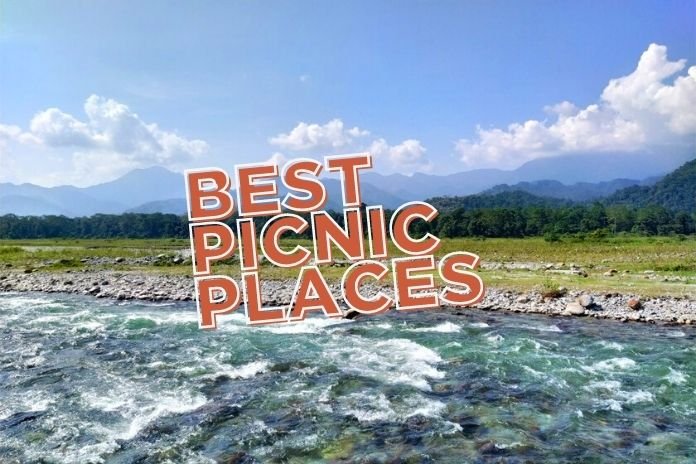 This is the Ultimate Guide to the best picnic places in Assam 
Have a picnic at one of these locations in Assam for a truly memorable experience! With their varied landscape and plenteous natural beauty, these places provide the perfect backdrop for a relaxing day outdoors with friends or family. From riverbanks to forests to open fields, check out these spots for an amazing picnic.
Here are some of the best picnic spots in Assam that you won't want to miss! Just copy the name and paste it on google maps to see the images
Best Picnic Places in Lower Assam
Jamduar Picnic Spot
Salarpara Picnic Spot (our favorite)
Mathanguri Picnic Spot
Kalamati Picnic Spot
Aie River Valley Picnic Spot, Roumari, Chirang
Shankarghola Forest Reserve
Nakhanda Picnic Spot
Thetha Picnic Spot
Picnic Places Near Guwahati
Deepar Beel
Chandubi Lake
Huhuwa Picnic Spot
Agyathuri Picnic Spot
Kopili Picnic Spot, Rani Guwahati
Bhunobakara Picnic Place Sarpara
Ukiam Picnic Ground
Amrengkona
Batakuchi Picnic Spot ( Houhowa)
Umtru
Theopani waterfall
Amsing Waterfall
Nepal Dhara Waterfalls
Encamp Adventures – Khanapara Hillside Camp
Gajai Gaon, Thekera Gug Adventure Picnic Spot
Read More:
Best Picnic Places in Middle Assam
Pobitora Wildlife Sanctuary
Umsiang-picnic place (not for family)
Reng Beng Picnic Place
Akashi Ganga Picnic Spot
Tengapani Waterfall
Koka (Panimur) – Our favorite, the waterfall is not safe for kids
Hatisila Picnic Spot
Bhelughat Waterfall
Paradise Lake
Best Picnic Places in Upper Assam
Baghmora picnic spot
Nimati ghat picnic spot
Guijan Picnic Spot
Dilli Ghat
Kamlang PicNic Spot
Dimow
Soil picnic place
What to Bring to a Picnic?
A picnic is a great way to spend time outdoors with your friends. However, you may not have everything you need on hand. That's why it's important to bring some basic items like food, water, and a map of the area. You can also bring a few games or activities for the kids to enjoy.
How to Enjoy a Picnic?
1. Decide what type of picnic you want to have. There are many different types of picnics, so it's important to decide what you're interested in.
2. Plan the logistics. Make sure you have everything you need: food, drinks, tents, and other materials.
3. Set up the picnic area. You can set up a picnic area at a park, nature reserve, or playground.
4. Have fun! Make the experience as enjoyable as possible for everyone involved by playing games, having fun foods, and listening to music.
What to Eat at a Picnic?
One of the most important things to do when planning a picnic is to choose the right food. Different types of food can be enjoyed at a picnic, but some of the most common ones include sandwiches, salads, and fruits and vegetables.
By choosing the right food, you can make sure that you're providing your guests with a healthy meal that they'll enjoy. Plus, you can add some fun items like games or music to make your picnic more enjoyable.
How to Have a Fun Picnic?
1. Decide what you and your friends are interested in. This will help you choose the right picnic spot.
2. Plan the outing. This includes figuring out where you'll be spending the day, finding a place to park, and choosing the right food and drinks.
3. Arrive early and set up your picnic area. This will save time and make sure everything is ready for your guests!
4. Have fun! Bring games, music, and any other activities that will keep your party going!
5. Eat healthy! Healthy foods will give your guests a good appetite and make them happy.
6. Get organized! Make sure all of your supplies are ready, so you don't have to wait long for your guests to arrive.
7. Have a great time! Let everyone have their own little picnic space and enjoy themselves!
What to Wear at a Picnic?
There are a few things you should consider when planning a picnic. First, you need to decide what kind of picnic you want. If you're looking for a family picnic, make sure you have appropriate clothes for the kids. You may also want to bring games, music, and snacks for the adults. If you're taking your friends on a picnic, be sure to have enough food and drinks for everyone.
If you're going to have an outdoor picnic, be sure to pack some sunscreen and hats!