Fans of Rick Riordan's beloved book series, Percy Jackson and the Olympians, have long yearned for a faithful adaptation, and their wait is finally coming to an end. Disney+ is set to bring this mythological tale to life, and we've got the inside scoop on what to expect.
Release Date and Episode Schedule
Premiere Date: December 20th, 2023
The highly anticipated Disney+ series, Percy Jackson and the Olympians, is all set to grace our screens on December 20th, 2023. Fans can mark their calendars and anticipate the first two episodes to drop on this date. Following the premiere, new episodes will be released every Wednesday, ensuring a steady stream of demigod adventures.
Diving into the Plot
A Heroic Quest in the Modern World
While the details are still somewhat shrouded in mystery, Disney+ has provided us with a tantalizing glimpse into the plot. The series follows the extraordinary journey of Percy Jackson, a 12-year-old modern demigod who is just beginning to grasp the extent of his divine powers. However, trouble brews in the heavens as Zeus, the sky god, accuses Percy of stealing his mighty lightning bolt. This unjust accusation sets the stage for a breathtaking adventure.
Companions on the Quest
Percy won't face this epic challenge alone. He'll be joined by his loyal friends, Grover and Annabeth. Together, they must embark on a once-in-a-lifetime odyssey to recover the stolen lightning bolt and restore order to the realm of the Olympians. Their path will be fraught with mythical creatures, godly challenges, and moral dilemmas, making for an enthralling narrative.
Teasers to Whet Your Appetite
While a full trailer remains elusive, Disney+ has treated fans to an official teaser and a short promotional video. These teasers offer a glimpse into the magical world of Percy Jackson and the Olympians, hinting at the grandeur and excitement that awaits viewers.
Official Poster Revealed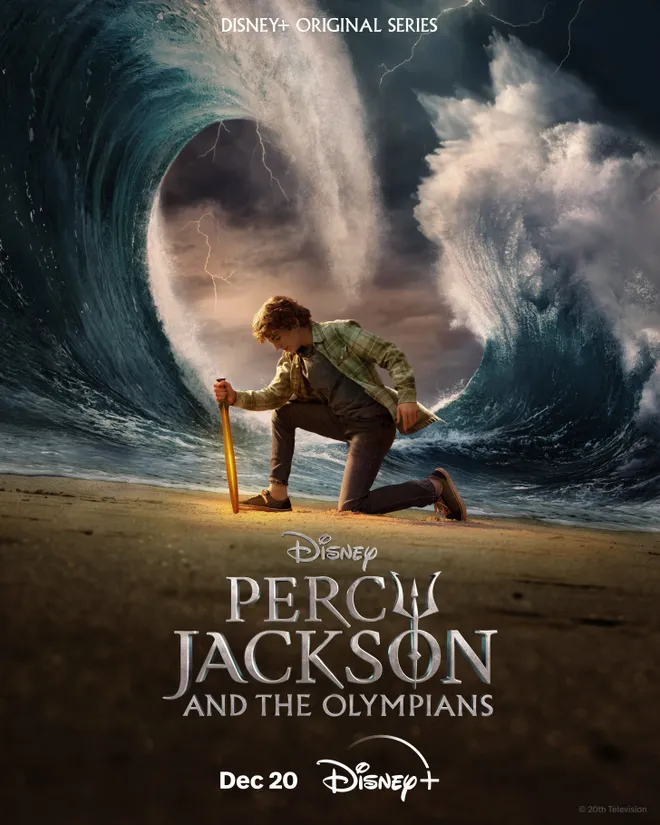 For those hungry for visual clues about the series, an official Percy Jackson and the Olympians poster has been unveiled. This captivating artwork provides a tantalizing taste of the characters and the mystical setting that will soon come to life on Disney+.
Meet the Cast
A Stellar Ensemble
The cast of Percy Jackson and the Olympians boasts a talented ensemble, promising to bring the beloved characters to life with depth and authenticity. Here's a glimpse of the key cast members:
Walter Scobell as Percy Jackson
Leah Sava Jeffries as Annabeth Chase
Aryan Simhadri as Grover Underwood
Lin-Manuel Miranda as Hermes
Megan Mullally as Alecto aka Mrs. Dodds
Toby Stephens as Poseidon
Virginia Kull as Sally Jackson
Jason Mantzoukas as Dionysus aka Mr. D
Jay Duplas as Hades
Glynn Turman as Chiron aka Mr. Brunner
Lance Reddick as Zeus
Adam Copeland as Ares
Charlie Bushnell as Luke Castellan
Dior Goodjohn as Clarisse La Rue
Jessica Parker Kennedy as Medusa
Olivea Morton as Nancy Bobofit
Suzanne Cryer as Echidna
Timm Sharp as Gabe Ugliano
Timothy Omundson as Hephaestus
This star-studded cast ensures that the characters we've come to love from the books will be portrayed by a talented group of actors.
Behind the Scenes
The Creative Minds
The success of any adaptation relies heavily on the creative team, and Percy Jackson and the Olympians has an impressive lineup:
Showrunners: Jon Steinberg and Dan Shotz
Writers: Rick Riordan (author of the Percy Jackson books) and Jon Steinberg
Director: James Bobin
This collaboration between the original author and experienced showrunners bodes well for the series' faithfulness to the source material and its creative execution.
Executive Producers Galore
The executive producers overseeing this grand project include a mix of industry veterans and newcomers, ensuring a balance of experience and fresh perspectives:
Rebecca Riordan
Ellen Goldsmith-Vein (The Gotham Group)
Bert Salke (The Gotham Group)
Jeremy Bell (The Gotham Group)
D.J. Goldberg
Jim Row
Monica Owusu-Breen
Anders Engström
Jet Wilkinson
This diverse team promises a series that captures the essence of Riordan's books while infusing it with new energy and vision for the small screen.
In conclusion, the excitement surrounding Percy Jackson and the Olympians on Disney+ is palpable. With a captivating plot, a talented cast, and an experienced creative team, fans of the books and newcomers alike can look forward to a thrilling journey into the world of demigods and mythological wonders. Mark your calendars for December 20th, and get ready to immerse yourself in a modern-day epic that promises to do justice to the beloved source material.