After being in the limelight for quite sometime now, the Dihingey Disangey Fame Debashree Gogoi is a name that needs no introduction. The model cum actress Debashree is all set for her debut Assamese film which has been directed by Arup Jyoti Rabha. Here are 5 facts you should know about her.
1. The Earlier Life
Debashree was born in Namrup on October 23 in the year 1993 (Thats what her facebook profile says). In the year 2013 she became the 1st runner up in a contest called Axomor Jiyori Rupe Gune. After that, she was approached by music video one after another. That's when she spread her wings beyond modeling and since that there was no looking back
2. Her Debut Assamese Film
Her Debut Assamese Film is Hari Om which is set to release within the next couple of months. Directed by Arup Jyoti Rabha Hari Om is an action film which follows the popular trend like south Indian movies. In this film Debashree features her as a girl from Sikkim.
3. Her Short film Fakebook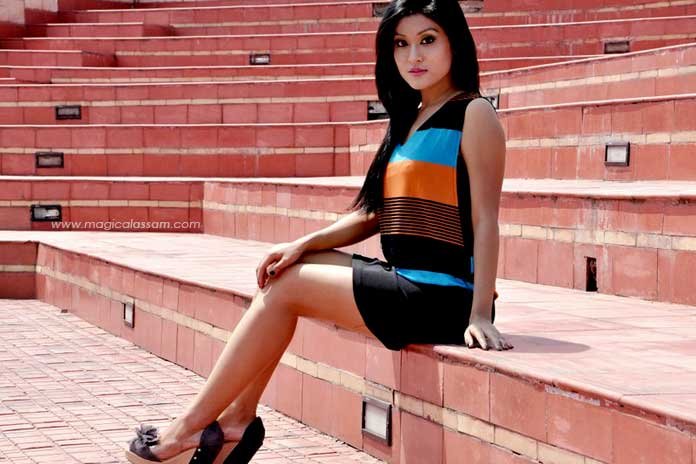 Debashree's another upcoming release, Fakebook is a much-awaited short-film. Based on social networking and the traps associated with such networking, Fakebook is expected to hit the YouTube soon.
4. Salman Khan is Her Favorite Actor and Her Favorite Actress..
Her favorite Actor is Salman Khan. Her favorite actress whom she admire the most in Assamese Film Industry is Prastuti Parashar
5. Her Style Icon and Her Favorite Pass Time is..
Debashree Gogoi follows Kareena Kapoor Khan as her style icon. When she gets some free time during shooting, she loves to listen music and clicking selfies.
Watch her one the most loved videos "Dihingey Disangey". This video also features Singer Dikshu.
Photographs are credited to Debashree Gogoi's Facebook Profile