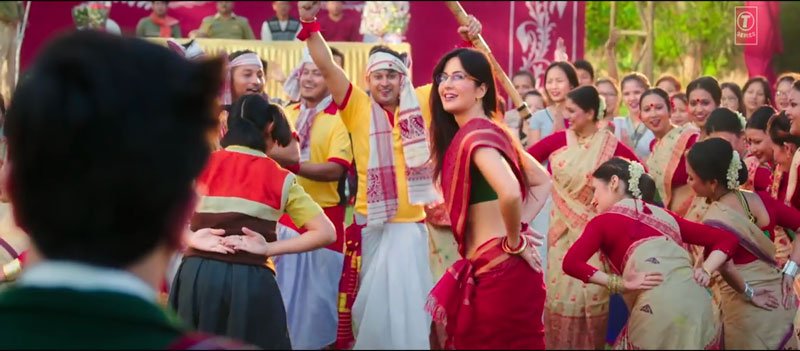 Directed by Anurag Basu, Bollywood film "Jagga Jasoos" has been in the news for various reasons. But for Assam the reasons are slightly different.
Last year, by the end of November we got to know that the film has a bihu dance sequence in it. The photos of Katrina Kaif along with the Bihu dancers got viral in social media at the same time.
Read – Bihu Dance to be Featured in Bollywood Film Jagga Jasoos Starring Ranbir and Katrina
A month later while the teaser released, we got a glimpse of the bihu dance and as usual most of us was very happy to watch that. (some people criticize Katrina Kaif not wearing proper traditional dress)
And this is not the end!
Last month, the Jagga Jasoos team released one of its songs "Galti Se Mistake" which become very popular and got 22 million+ views in first 2 weeks. Surprisingly the music director Pritam included the traditional Assamese instruments (Dhol, Gogona, Pepa, Taal, Toka) in it.
The masterminds behind the music production
Well, the National Award winner music composer Anuraag Saikia, who has been doing outstanding jobs in various bollywood and regional movies from past few years reveals that they have done the mixing and recording entirely in Guwahati under the guidance of Bhupen Ujir in Studio Audited.
Assam boy Anuraag who is also the music arranger of this film reveals that not only in this song but Assamese traditional instruments have also been used in the background music of this film.
Dhal, Negera, Madol, Doba, kham, kartal, Toka, Pepa are the some instruments that being used in Jagga Jassos.
Here's the song "Galti Se Mistake"
Here's the list of Axomiyas associated in this song
Music Production And Sound Design: Dj Phukan (Dhrubajyoti Phukan) (And Sunny M.R)
Music Programming: DJ Phukan (Rohan Chauhan, Sunny M.R.)
Dhol : Debeshwar Saikia, Lachit, Pankaj Bora
Gogona/ Pepa : Jayanta Sonowal
Toka/ Taal : Anurag Saikia/ Bitopan Kashyap
Studio Auditek (Guwahati)
What else in this film?
Although the film was shot in South Africa, Kolkata, Darjeeling and Thailand, you'll able to watch a glimpse of northeast also. In the trailer you can see a bus having "Manipur State Transport Corporation" written in it. From the trailer we can guess that this is the place where Ranbir and Katrina first met each other.
Jagga Jasoos is a musical adventure romantic comedy film written and directed by Anurag Basu, and produced by Basu and Ranbir Kapoor. The film features Ranbir Kapoor, Katrina Kaif and Adah Sharma in lead roles, and tells the story of a teenage detective in search of his missing father.
Read More
Konkona Sen Sharma's Directorial Debut Film Has An Assamese Song
Kenny Basumatary to Portray the Role of Netaji in Raag Desh
The Inspiring Story of Assam's International Boxer Jamuna Boro will Leave You Motivated
Amrit Pritam Dutta is Now a Member of Oscar Governing Body