Women's participation in the workforce has increased over the years, yet, a healthy percentage of the female employees have also had to constantly endure sexual harassment and abuse at the hands of their employers, leading to an oppressive environment in the workplace. Many women prefer to suffer silently over the injustices committed against them, out of fear of losing their jobs. At times, when they do speak up, they are often met by apathetic superiors and colleagues. A healthy public awareness about the issue of sexual harassment may, perhaps, help prevent its recurrence, which is what prompted Partha Bharadwaj to produce an Assamese short film – 'Not my Thing', which also celebrates the resilience and the remarkable spirit of women. Now available on social media, the film was formally released at a function held in a Guwahati-based hotel, attended by cine-journalist Arun Lochan Das, popular actor Ravi Sarma, music director Tarali Sarma, actor Bibhuti Bhusan Hazarika, well-known filmmaker and 'Not my Thing's scriptwriter Prodyut Kumar Deka, director Prasant Saikia, actress Nandini, singer Queen Hazarika, the film's producer and designer Partha Bharadwaj, Hemanta Debnath, Udayan Duwarah, among others.
Dealing with the all-pervasive issue of sexual abuse, the film follows the travails of a woman, a young widow, who gets employed in a corporate establishment but has to endure sexual abuse from her employer. She is not prepared to sacrifice her individual identity, as she refuses to be a passive victim, for the sake of status, and comfort of life. But slowly, it becomes very difficult to live a life of dignity.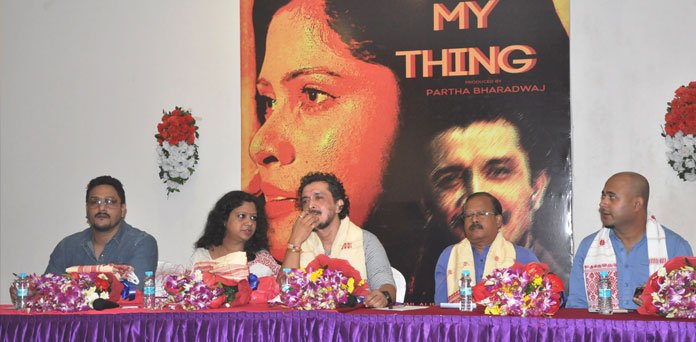 "Employment opportunities for widows are very low, due to gender division in the workforce. Even if they do get employed, they are more vulnerable to sexual harassment from their employers," said the film's director Prasant Saikia. "Women must have the courage to put their foot down and say 'enough is enough'", declared by Ravi Sarma during his speech. On the occasion, Prasant Saikia's 'Rum Vodka Whisky' was also screened. A song from the upcoming music album 'Nandini' was also released.
Presented by Multi Business Professional Associates (MBPA), 'Not my Thing' stars artistes like Bibhuti Bhushan Hazarika, Nandini, Alishmita Goswami, Kalindini and Hemanta Debnath. The film's camerawork is done by Ratul Barman, edited by Abhijit Roy, sound designing and mixing are by Gautam Baruah, while the make-up is by Pranab Raj, and the poster designing has been done by Hirak Jyoti Pathak. The film also features a cover version of famous American music band R.E.M's 'Everybody Hurts', a popular number of the eighties.