Ahoy, fellow pirates and anime enthusiasts! Netflix's latest treasure trove, the live-action adaptation of the beloved "One Piece" series, is finally gracing our screens.
With over 1,000 episodes under its belt, the original anime has captured the hearts of fans worldwide. Now, we have the chance to dive into a fresh, live-action adventure on the high seas.
In this blog, we'll embark on a journey to explore how the cast of Netflix's 'One Piece' stacks up against their animated counterparts.
Read Now:
Are you ready to set sail and see these iconic characters come to life? Let's hoist the anchor and get started!
Iñaki Godoy plays Monkey D. Luffy, the captain of the Straw Hats
Meet Luff, the star of the show! When Luff was just a kid, he chowed down on the Gum-Gum devil fruit, and guess what? It gave him the craziest rubbery powers you can imagine! Now, he's got his eyes set on becoming the King of the Pirates, and he's already started gathering his crew in the very first season of the series.
And speaking of stars, let's not forget Godoy. He's a talented Mexican actor you might remember from Netflix's "The Imperfects."
Mackenyu plays Roronoa Zoro, a pirate hunter turned Straw Hat swordsman
Meet Roronoa Zoro, a swordsman with big dreams of becoming the world's greatest. He's got a unique fighting style – wielding not one, not two, but three swords, even holding one in his mouth! Although he made a name for himself as a pirate hunter, Zoro was the very first member to join Luffy's crew.
Now, let's talk about Mackenyu. He's a Japanese-American actor known for his roles in Japanese productions. You might have seen him in live-action manga adaptations like "JoJo's Bizarre Adventure: Diamond Is Unbreakable Chapter I" and "Rurouni Kenshin: The Final." He's got quite the repertoire!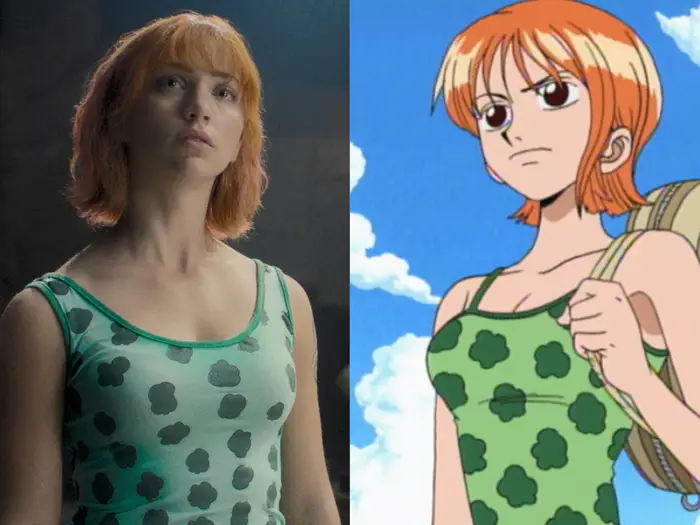 Meet Nami, the brilliant navigator of the Straw Hats crew. She's not just any pirate; she's got mad skills as a thief and map-maker. Plus, she's got this awesome knack for understanding the weather. Nami's dream? To create a map of the entire world!
Now, let's talk about Rudd. You might've seen this talented actor in shows like "Hunters" and "Dynasty" or caught him in the movie "Moonshot." Get ready to learn more about how he's bringing his acting chops to the world of "One Piece."
Jacob Romero Gibson plays Usopp, the Straw Hats' sniper
Meet Usopp, the fourth member to join the Straw Hats crew. He's quite the sharpshooter, armed with a slingshot, and he's got a real talent for spinning tall tales. Usopp's got big dreams too – he's aiming to be a top-notch pirate, just like his dad, Yasopp, who's part of Shanks' crew.
And speaking of Usopp, you might've seen the actor behind this character, Gibson, in some other TV shows like "Greenleaf" and "Grey's Anatomy."
Taz Skylar plays Sanji, the Straw Hats' cook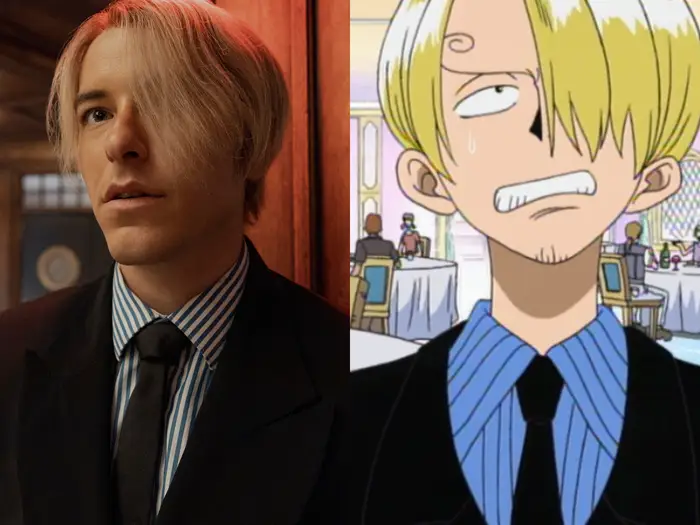 Meet Sanji, the culinary genius of the crew! He was recruited from a floating restaurant called Baratie. Sanji's quite the charmer, always chasing after the ladies. But here's the twist: he's a fighter who uses his legs, saving his hands for the kitchen.
Now, let's switch gears and talk about Skylar. Skylar is a talented actor hailing from Spain and England. You might've seen him in the off-West-end play "Warheads," which he not only acted in but also wrote. He's also graced our screens in TV shows like "The Lazarus Project" and "Agatha Raisin." Impressive, right?
Peter Gadiot plays "Red-Haired" Shanks, the Red-Haired Pirates captain who gave Luffy his iconic straw hat
Shanks and Luffy first crossed paths when Luffy was just a kid. Shanks and his crew used to visit Luffy's village often. During one visit, Shanks saved Luffy from a sea monster and gave him his special straw hat. Shanks told Luffy to return the hat once he became a great pirate.
Gadiot, who you might remember from "Yellowjackets" and other shows like "Once Upon a Time in Wonderland" and "Queen of the South," is now part of the cast.
Morgan Davies plays Koby, a boy Luffy rescues from a pirate crew who chooses to enlist in the Marines
Meet Koby, one of the very first folks Luffy befriends on his quest to become the Pirate King. Luffy comes to the rescue of this timid yet sharp youngster, saving him from the clutches of Captain Alvida and her crew. Together, they set off on an adventure that takes them to various places. However, Koby has a different dream—he aspires to become a part of the Marines, the folks responsible for maintaining law and order in the "One Piece" world.
And when it comes to the actor who brings Koby to life, that's Davies, an Australian actor renowned for his roles in "Evil Dead Rise," "Terra Nova," and "The Girlfriend Experience."
Langley Kirkwood plays Captain Morgan, who's the leader of a Marine base and has an axe for a hand.
Meet Captain Axehand Morgan, the ruler of an island near the East Blue marine base. He's not your average captain; he's got a giant axe instead of one hand, hence the nickname Axehand!
And speaking of stars, you might recognize Toby Kirkwood from his roles in "Warrior," "Invictus," "Dredd," and the pirate-packed Starz series, "Black Sails." Let's dive into more about these intriguing characters and the actor behind them!
Aidan Scott plays Helmeppo, who's the son of Captain Morgan and enlists in the Marines.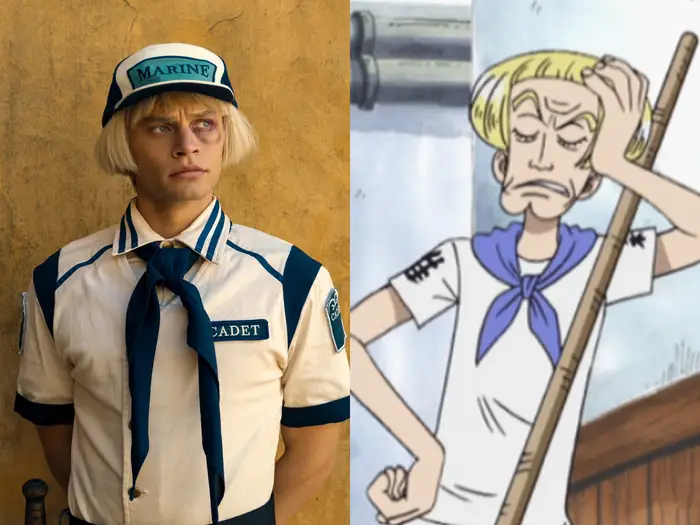 Meet Helmeppo, the not-so-nice son of Captain Morgan. He's a bit spoiled and not that great at what he does. But you know what makes it worse? He uses his dad's power as a Marine captain to do whatever he pleases.
Now, let's talk about Scott. You might've seen him in "The Power," "Kissing Booth 2," and "Action Point" before.
Vincent Regan plays Garp, a vice admiral who's on Luffy's tail.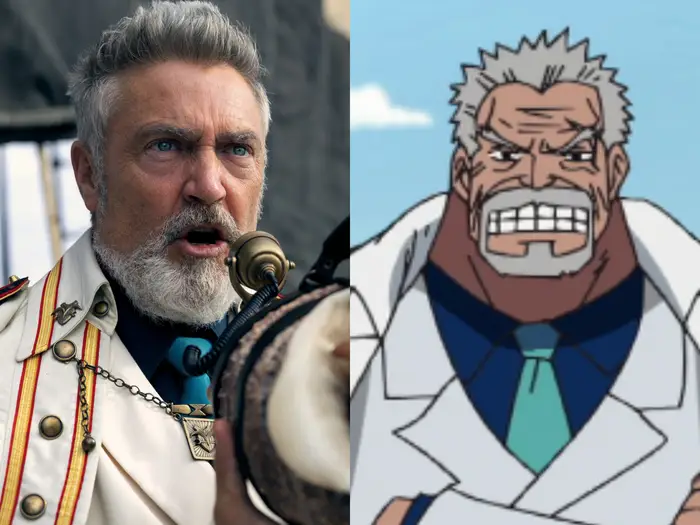 Meet Garp, a top-notch Marine officer holding the prestigious position of vice admiral, which is the third-highest rank in the Marines. He's a living legend in the live-action series, known for capturing the former king of the pirates, Gold Roger.
You might recognize the actor behind Garp from some blockbuster hits like "300," "Snow White and the Huntsman," "Troy," and "Clash of the Titans."
Armand Aucamp plays Bogard, Garp's right hand man.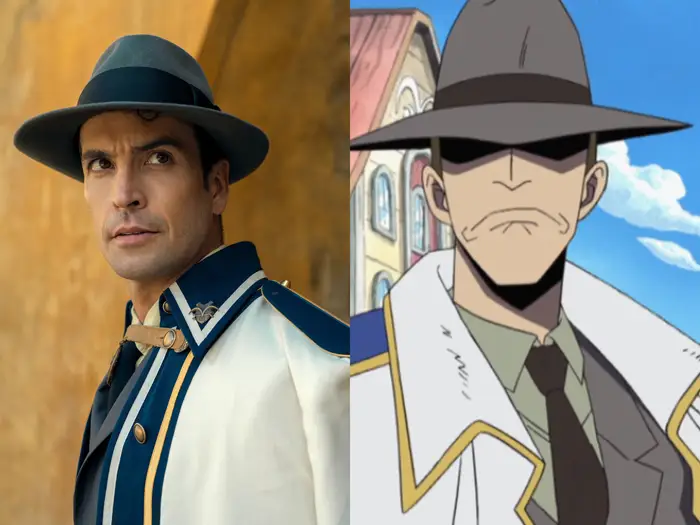 Meet Bogard, the right-hand man of Vice Admiral Garp in the Marines. He's always got a sword by his side, although he doesn't use it much.
You might recognize Aucamp from his roles in "Warrior" and "Homeland."
Michael Dorman plays Gold Roger, the previous King of the Pirates whose execution launched the "Great Age of Pirates."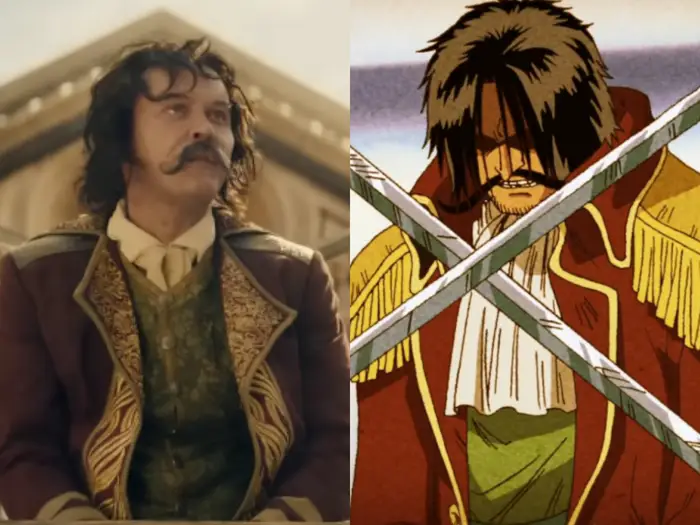 In both the live-action and anime versions of "One Piece," things kick off with a bang! Gold Roger, known as the King of the Pirates, faces execution by the Marine organization due to his pirate activities. But he doesn't go quietly. Right before his public execution, he boldly tells the crowd that his hidden treasure, the One Piece, is up for grabs, and anyone who wants to be the next King of the Pirates should go find it.
This sets off a wild frenzy known as the "Great Age of Pirates." Thousands of pirates set sail for the treacherous Grand Line, the most dangerous part of the world, all in pursuit of this legendary treasure.
And, in a fun twist of fate, it's worth noting that Dorman, the actor in our spotlight, had a role in "Pirates of the Caribbean: Dead Men Tell No Tales." Talk about a pirate-themed connection!
Ilia Paulino plays Alvida, a pirate captain who previously held Koby on her crew.
Meet Captain Iron Mace Alvida, a pirate who's absolutely crazy about her appearance! She once caught Koby and made him join her gang, the Alvida pirates.
You might recognize Paulino from her role in "The Sex Lives of College Girls."
Jeff Ward plays Buggy the Clown, who's the captain of the Buggy Pirates and has the ability to split his body into multiple pieces.
Meet Buggy the Clown, a pirate with a peculiar power! Thanks to the Chop-Chop Devil Fruit, he can chop his body into pieces and reassemble them however he wants. But here's the twist: Buggy's not just a jolly jester; he's got his sights set on becoming the King of the Pirates, putting him at odds with our hero, Luffy.
And speaking of talented actors, you might recognize the name Ward from his roles in "Agents of S.H.I.E.L.D" and "Brand New Cherry Flavor." Let's dive into this exciting world of pirates and actors together!
Steven John Ward plays Mihawk, one of the seven warlords of the sea and the greatest swordsman in the world.
To stop pirates, the Marines hire seven tough pirates to catch other pirates, calling them the "seven warlords of the sea." Mihawk, the world's best swordsman and the only warlord without a crew, is one of them. The Straw Hat Pirates cross paths with him during their adventure.
You might know Ward from his roles in "Queen Sono," "The Day We Didn't Meet," and "Vagrant Queen."
McKinley Belcher III plays Arlong, the leader of the all fish-men Arlong Pirates.
Meet Arlong, the head honcho of the Fishman pirates, the troublemakers causing chaos in East Blue, where Luffy kicks off his adventure. Now, Fishmen in the "One Piece" world? Well, they're a unique bunch – a mix of human and fish. Arlong, in particular, has a bit of sawfish shark in him.
And speaking of stars, you might recognize Belcher III from his roles in "Marriage Story" and "We Own This City."