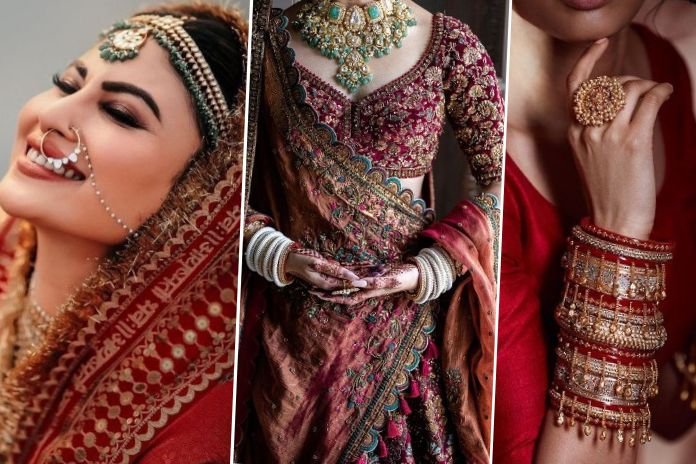 A wedding is considered the most important event of a girl's life. It is the beginning of a new and exciting journey. And brides like to go all out on their wedding day. And why shouldn't they? Especially Indian weddings, which are the biggest and fattest wedding you could ever attend! Every girl wants to look like an absolute beauty on her wedding day, and rightly so! So, here are some tips for you to style your Indian bridal jewelry to look like the perfect Indian bride. 
Finding The Right Color Combination
One of the basic details of styling an outfit is to match the colors. And the same goes for bridal outfits. Sure, you can experiment with the styles and colors of the jewelry. You can even come up with unique and personalized color combinations. But make sure that the colors go perfectly with each other and also match the bridal gown you are wearing. You can pick out the hues and shades from your outfit and find jewelry pieces in that color. Keep in mind the tones and vibes of your outfit, and go for jewelry that compliments that. No one wants to wear clashing jewelry on their wedding day!
Stunning Kundan Necklaces
Kundan necklaces are a staple piece of Indian weddings. You have got to wear one, but there are several style options you can choose from. First, decide the necklace's length: it can be styled like a choker or as long as rani haar. That will depend on your personal preference and also the neckline of your bridal gown. A choker would help complement your bare skin and unique design for broad and deep necklines. For boat and rounded necks, you can choose long necklaces. Also, keep in mind that the color of the necklace matches the color of your outfit.
Gorgeous Jhumkas
For earrings, jhumkas are the most preferred option for Indian brides. But how do you choose between big, chunky jhumkas and small, delicate jhumkas? Well, keep in mind the hairstyle you will have on your big day. It would be best to try out the earrings with that exact hairstyle before deciding on anyone. This will help you choose the ones that flatter your face and hair the most! Any gorgeous jhumkas, matching colors with the rest of the outfit, look amazing on your wedding day.
Statement Rings And Bangles
Bangles are a significant symbol of Indian culture around the globe. They look extremely alluring and beautiful on brides. Most Indian cultures have their traditions of bangles for weddings, like how Punjabis like to wear the Choora. So you can stick to your cultural roots and check those bangles out! Bangles are mostly made of precious metals like gold, silver, etc. But you can also purchase compatible ones made of cheaper materials like ivory, glass, gold plated, etc. 
As for rings, rings are a symbol of love and trust at weddings. Personalized rings would help beautify your hand. You can try out some rings with embedded gemstones and make them your signature look for your wedding!
Maang Tikka
Usually, the forehead is the first place a person's eyes drift towards. So, you need to ensure that the maang tikka you are wearing is worth that attention. Big, chunky maang tikkas are the trend of the hour and look extremely attractive to everyone. You can also get it in various colors, so it compliments your outfit perfectly!
Anklets
Anklets, also known as payal, are one of the most dainty jewelry you can wear. They look very sensual and look stunning. They are available in a variety of designs and delicate patterns. Some are also available with little metallic balls attached that would make a sweet, melodic sound while the bride walks. So, you will have your soundtrack playing while walking down the aisle!