Lotus Herbals Liquid Foundation
Top Rated
Check Price
L'Oreal Paris Fresh Wear Foundation
Editor's Choice
Check Price
Lakme 9To5 Primer, Foundation
Best Budget
Check Price
The ultra dewy, crystal clear skin may be everywhere but where does that leave those of us with oily skin? So if your skin has become greasier than the streetside schezwan noodles, you can try one of the below foundations from the list.
These foundations are lightweight, non-pore clogging, long-wearing, and will keep your face shine-free without looking like a chalky mask or feeling like a breakout waiting to happen. Also, Blackheads and whiteheads are common when you have oily skin.
That's where these foundations come into play—it gives your face smooth, oil-free coverage.
Let us take a look at some best foundations for oily skin in India and opt for the one which is best suited.
1. Lotus Herbals Natural blend Comfort Liquid Foundation
Lotus Herbals Natural blend Comfort Liquid Foundation is Enriched with botanical extracts of Soy Lecithin & Jojoba and Grape Seed. This foundation is available at three appealing shades so that you can choose the one that best suits your skin type or tone with ease.
Lotus herbals foundations ensures a flawless, natural finish look. It ensures excess oil control and no clogging of skin pores. This foundation is super bendable and provides perfect coverage.
Available Shades– Buff, Sand, Soft Cameo
Special features
Very lightweight and waterproof foundation
SPF 20 helps in protecting from UV rays
Comes in different shades, suitable for all skin colors
Contains Jojoba which has moisturizing and softening properties
Grape Seed Extract works as natural astringent, anti-microbial & antioxidant
This foundation blends easily and contributes to a flawless look
Pros
Good for all day wear
It is an oil free foundation
Pure weightless coverage
Pro new moisturizing formula for skin
Hides imperfections. Marks, spots, and dark circles too
Budget friendly product
Cons
Do not suit all skin type
2. Maybelline New York Fit Me Matte+Poreless Liquid Foundation
This foundation by Maybelline is lightweight and gel-like. It blends into the skin to give you an even tone skin. This foundation provides medium coverage with a natural satiny finish. It is perfect for everyday wear.
Maybelline New York Foundation is extremely effective in concealing blemishes and fine pores which makes it one of the best foundations for oily skin in India. This foundation is available in most drugstore and beauty shops at an affordable price.
Available shades– Beige, Natural tan, Pure Beige, Classic Tan, nude beige, Rich tan, Ivory, golden Caramel, Cappuccino, Sun beige, Toffee, Spicy brown, Soft Tan, Warm nude, Natural beige, buff beige, natural buff, classic ivory
Special features
Available in 18 shades to meet the needs of every Indian skin tone
Natural matt finish
Easily bendable
Blends seamlessly for an unforgettable finish.
This foundation is non-comedogenic
A perfect foundation for normal to oily skin
Wide availability 
Pros
Fit Me foundation has 18 unique shades in stock
This is normal and genuine to oily skin
Very light weight
Long lasting product
It refines pores for an even natural looking matte finish
Easily provides coverage for a wide array of skin tones
Provides coverage for a flawless, and natural touch up.
Cons
More over watery foundation
3. L'Oreal Paris True Match Super Blendable Liquid Foundation 
This one is undoubtedly one of the foundations for oily skin in India. Loreal Paris True Match Super blendable foundation is a good product for oily skin and provides good coverage. Your greasy T-zone has finally met its match.
This foundation from Loreal Paris for oily skin looks and applies like a liquid, yet dries down to a smooth, powder-like finish that feels super light. This product is super bendable which contributes to a beautiful, flawless look. It is perfect for any occasion.
Available shades– Rose Sand, Mahagony, Cocoa, Golden Beige, N1 Ivory, But Brown, Golden cappuccino, golden Amber, Rose Beige, Golden Sand, Beige, Rose Vanilla
Special features
Micro-powders control shine & oil
Casts a natural poreless-looking finish
Matches the color and texture of your skin
It's micro-fine, creamy texture is effective in hiding blemishes or any other imperfections
Gives a very natural look
Long-lasting(6-7 hrs), Waterproof
Serve as an alternative to eye shadow primer.
Pros
Provides make coverage from light to medium
Formulated for all skin type
Highly riched with Vitamins C and A and fruits extracts
keep your skin nourished, moisturized, protected, and healthful
Ultra-pure formulated for skin with no oils in it
Easily blendable
4. Lakme Absolute Skin Natural Mousse
The Lakme Absolute Skin Natural Mousse is extremely light with an amazingly smooth texture. It is a rare combination of primer and foundation. The foundation has silicon in it which is the reason it blends out so smoothly and easily.
This foundation also serves an alternate to primer. It is available in six different shades to suit the need of every Indian skin and comes with SPF 8, which helps in protecting against harmful ultraviolet rays.
Available shades– Ivory fair, Rose fair, golden medium, Golden light, Beige Ivory, Almond honey
Special features
Weightless and natural matt finish
Provides a full coverage, hides pores and fine lines.
Smooth and cream-like texture
Super long-lasting(Up to 16 hrs)
Easily available
Affordable
Good for everyday wear
Pros
SPF 8
Very smooth and lightweight texture
Easily bendable
It has 6 unique shades in stock
It gives a pro-touch-up for any occasion. 
Ensures healthy and protected skin
This well suits all skin type
5. Lakme Face Magic Souffle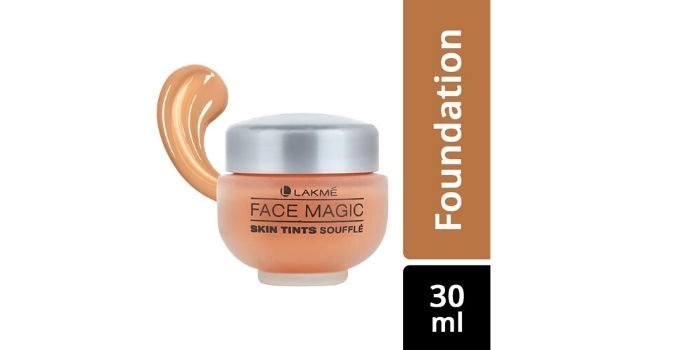 Some days you just want full coverage. On those days, reach for this foundation for Lakme for oily skin. All you need is a little bit of the ultra-pigmented foundation to hide discoloration, redness,—without clogging your pores or making your skin super shiny.
This foundation is enriched with the goodness of Vitamin E. Use a makeup sponge to apply this foundation on your face and you'll be surprised at the dramatic blurring effect it has on your face. Pores, fine lines, and rough texture? They all disappear once you put a few pumps of this foundation.
Available shades– Natural Marbel, Natural Pearl, Natural shell
Special features
Suitable for all types of skin
Gives a radiant and glowing look
Covers blemishes and dark spots
Reduces dark circles
Budget-friendly
Easily blended with sunscreens
Pros
Hides imperfections. marks, spots, and dark circles too
Highly enriched with Vitamins C and fruit extracts.
Ensures radiant, flawless, and glowing skin
It good for everyday use and natural look
Gives perfect coverage
Waterproof and long-lasting product
How to Apply Foundation on Oily Skin
It is not easy to find a foundation that suits your oily skin. The selected foundation should be absorbed by the oily skin and there shouldn't be any trouble with it all day and night. Finding the correct foundation is difficult for those who are having oily skin. Because they have to select the one which suits their face exactly.
Choose a foundation that suits your skin tone
When selecting the foundation the most important thing is that the foundation is matching to your skin tone. You should check the tone of it in broad daylight and not in stored space. Always remember one thing that does not test the foundation on your hands, and arms because the skin tone of your face is entirely different from the other areas of your body.
Secondly, you have to pick three samples of foundation by choosing it from the lighter shades to the dark and check whether it has disappeared or not.
Matte Foundation
You have to choose the foundation which is matte because it is considered the ideal one for oily skin. It is advisable to not use the semi-radiant or radiant matte as your face will appear too greasy. If you are for a party or having a night out you can choose powder matte foundation as it will give you a beautiful look and cover your face fully also.
Choose a long-lasting and oil-free foundation
You have to choose an ideal foundation that doesn't have any oil-based products in it otherwise; the foundation will not be working properly on your skin. You will look the best with a non-oily matte foundation as you will look prettier. The matte foundation should last for a longer period of time.
How to Prime your Face with Foundation?
Use a cleansing brush
Before applying the Foundation to your oily face you should first clean the face properly. The face should be cleaned properly before applying the foundation to get the desired rest. You can use a cleansing brush to clean your oily face and wash your face properly first before applying the foundation.
You can get the cleansing brush at the nearby drug store or online. A Clarisonic cleansing brush is also a good brush to clean your oily face.
Use water-based moisturizer
You should use a water-based moisturizer in your face if you have an oily face. Otherwise, it will lead to dehydration of your skin and your skin becomes oilier.
How to Apply Foundation?
First, remove the oily spots before applying foundation as it will help to use it more smoothly.
You can use this by bloating the oily spots on your face.
Use the correct primer
Select the primer which is suitable for oily skin. You can use your fingers or make-up brush before applying the foundation.
Dap the foundation
You can use your clean fingers or dab it with a brush while applying the foundation.
Carry your bloating paper. You should carry your blotting paper with you if your makeup comes out. You can use this blotting paper to remove the oil from your skin.
Use a blend matte foundation to apply it evenly to your skin.