In order to choose the perfect shade of olive-toned skin you need to match your colors to your olive undertones first. The secret is to find out which of your olive undertones is your best.
We live in a world where things change almost every day, but color trends don't always go in cycles. Some people think that it's good to experiment with different color palettes and try to create a look that will be timeless.
But sometimes, even though you may have a great color scheme in mind, you might have a hard time finding colors that match the feel you want to create. In this article, we're going to go over some different ways to match the undertones of your olive skin tone.
We all know how important it is to use color to attract attention, but what happens when your skin tone is very similar to the color you're using for your logo? You can see in the examples below, that you'll need to make sure you pick colors that complement each other.
How to tell if you have olive undertone skin?
There are no hard and fast rules for determining if your skin is olive. If you answer yes to some of the statements, you may have olive undertones.
You can see a green or grey color on your skin. Even if the foundation is the right depth, it can look too yellow, pink or orange on your skin.
Your veins aren't blue or green.
You look good in jewel and subdued tones, but not pastels.
Light and white-based shades of lipstick don't look right on you.
You look great with both gold and silver jewelry.
There are many red lipstick colors that pull pink or magenta on you.
You look sickly if you look in the wrong colors.  
Olive skin tone
The color of your skin is warm, either yellow, golden, or olive green. Under the sun, you are brown instead of red. Your hair color could range from dark brown to dark blonde, and your eyes could be a shade of brown.
If you have a fair complexion, you will look best in shades that are either a little brighter or a little darker than the middle ground to add some contrast.
Celebrity examples: Jessica Alba, Jessica Szohr, Enrique Iglesias.
Colors that look best on you: Red, Orange, amber, golden yellow, warm greens, blue, moss green, turquoise, magenta, purple, and creamy whites.
Colors to avoid: Colder blues, soft greens, and yellows – the last two are too similar to the undertone of your complexion.
Clothes for olive skin undertone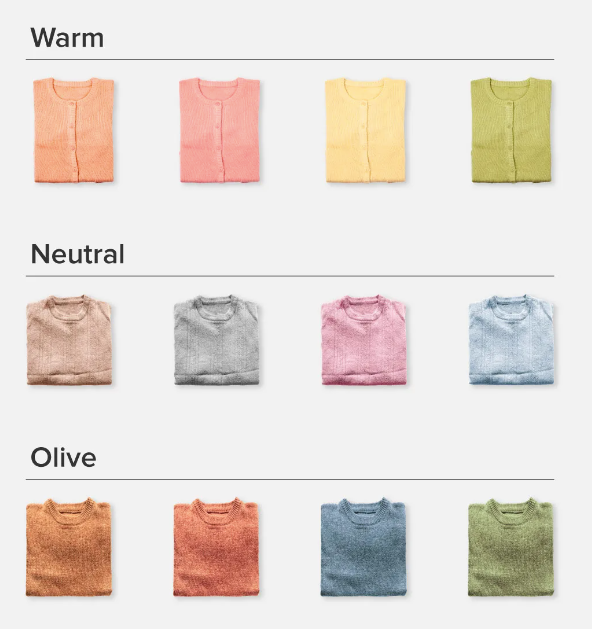 Best Foundations For Olive Skin Tone
When you think about the best foundations for olive skin tone, you're probably thinking about the color of your skin. A golden glow comes naturally to some, and it can be quite challenging to get that look for others.
There are various shades of olive skin tone; they range from light to dark. Darker tones tend to look more natural, while lighter ones may appear too tan or fake. When choosing a foundation for olive skin, it's important to select a shade that complements your complexion—the right choice will make your face look smoother and radiant.
1. Estee Lauder Double Wear Stay-in-Place Makeup
This product has been around for quite some time, and we first featured it in our list of best liquid foundations in 2014. It's been on the market for almost 5 years now, and we've tested it thoroughly. We've even included it in our top 10 makeup items list too.
Estee Lauder Double Wear Stay-in-Place Makeup is one of the best liquid foundation options available today. It's great because it's long lasting and stays put all day long, and it won't leave any marks on your face either. It's oil-free too, and it doesn't contain any fragrance, so you'll barely smell it when you use it.
While other liquid foundations tend to fade under direct sunlight, Estee Lauder Double Wear Stay-in-Place Makeup looks natural and never leaves any traces. It can be used on dry skin or oily skin, and is suitable for every skin type. It's ideal for people with normal to combination skin.
The packaging of the Estee Lauder Double Wear Stay-in-Place Makeup is sleek and elegant, and the bottle is sturdy too. It's easy to carry around in a bag or purse, and the pump makes applying it a breeze.
2. Bobbi Brown Skin Foundation Stick
If you're looking for a lightweight foundation stick that doesn't weigh down your face, Bobbi Brown is what you need.
The Bobbi Brown Skin Foundation Stick is available in a variety of shades and the Beige shade is my favorite.
It provides a flawless finish, and I really like how it doesn't cake on your face when applying. The texture is light and creamy, which is great for a lightweight foundation.
The colour payoff is also great – you get a medium coverage, and it blends easily into the skin. This makes it suitable for daily use.
I didn't have any problems with the packaging either. It's super convenient and compact, and I didn't have to worry about the cap falling off or anything.
It's also very affordable, so if you're looking for a new foundation stick, this is a good option.
I'd recommend the Bobbi Brown Skin Foundation Stick to anyone who wants a lightweight foundation stick.
3. NYX Can't Stop Won't Stop Foundation
Foundations are one of the hardest things to find that actually works for my skin. I have very sensitive skin, so I like to avoid products that contain ingredients that might irritate me.
I'm really happy that I found NYX Professional Makeup's Can't Stop Won't Stop Foundation. It's the perfect shade for me, and the texture feels very light and natural. I've had this for over a year now, and I haven't noticed any breakouts or irritation.
It's also very pigmented and doesn't seem to budge, which is great because it stays on all day. Plus, I don't have to reapply throughout the day because it doesn't transfer to clothes or anything else.
NYX Professional Makeup's Can't Stop Won't Stop Foundation is a long-wearing liquid foundation that delivers matte coverage that stays true up to 24 hours.
Top Lipstick Colors for Olive Skin
Olive complexions are often miscategorized, and therefore become victims of makeup mix-matches, even by makeup masters. To figure out the best lipstick for olive skin, we wanted to give you a closer look at the color subtleties in olive skin. The dull and the good in the best lipstick colors for olive skin types are separated.
When analyzing your skin tone, keep in mind that there are two main aspects to it: the surface color and the undertone. The skin tone is the surface color of the skin and can be described as fair, tan, medium, or dark. The shade beneath your skin is the main source of your undertone. The undertone is classified into three different categories.
Cool undertones – have red, blue, or pinkish tones
Warm undertones – have orangish, peachy, honeyed yellowed or golden tones
Neutral undertones – a mixture of both cool and warm undertones
Berry Shades – Plumbs and berry shades are a dream for olive skin. The dark tones have notes of chocolate in them. Ladies with olive complexions who prefer something less brooding and more vibrant should keep an eye out for raspberry and claret.
Brown Shades – When it comes to brown colors, olive-skinned ladies pick their favorites. It is possible to warm up an olive complexion by wearing brown shades that have hints of caramel. On darker olive skin, cooler colors like a taupe, are striking. Similar to the berry shades, an olive-skinned gal can go towards the deeper, chocolate end of the spectrum, and the yellow in her complexion can stand up to a rich, coffee hue.
Check Brown Shades Lipsticks on Amazon
Nude Shades – For ladies with subtle hints of green in their complexion, this category of lipstick colors can be difficult to find. nude lipstick can look too light, too pink, or cakey in the wrong shade, as if you coated your lips with makeup. You want to stay away from shades that are heavy on the pink. If you want a nude lip color that leans towards the brown end of the spectrum, look for it.